June 26
Egg Harbor School Reunion
The Egg Harbor Historical Society is hosting a reunion for everyone who attended the Egg Harbor Grade School. The reunion is Sunday, June 26, 2016. Anyone who taught there or simply wants to learn more about the school is also welcome to attend.
The reunion will be held on the grounds of the old school next to the Egg Harbor Village Fire Station on Harbor School Road from 11 am – 3 pm. The reunion will include a picnic lunch and a dedication of a plaque recognizing the school and the old Pleasant Grove School that once stood near the corner of Harbor School Road and Memorial Drive. Attendees are encouraged to bring photos to share as we remember life in the local schoolhouse!
The old Egg Harbor school welcomed students from 1912 to 1972.
Tickets to the reunion are $10 and can be reserved by visiting eggharborwi.com and downloading the reservation form.
Feb. 22
The Kewaunee House and Historic Sites a Stone's Throw Away, 1850s – 1950s"
Shipwrecked Brewpub
Feb. 22, 3 pm
The Egg Harbor Historical Society presents its winter program Feb. 22 at 3 pm. The program will feature a slideshow presentation at Shipwrecked that looks at the historic people and landmarks of the village center. Join us! Get more details here>>
Sept. 16
Egg Harbor Historical Society Annual Meeting
Horseshoe Bay Golf Club
5335 Horseshoe Bay Road, Egg Harbor
Cocktails:  5:30 pm, Dinner:  6 pm
Join us for a presentation from Glenn Timmerman, owner of the Barns at Horseshoe Bay. Glenn will present on the history of the barns and unveil his plan for the future of the iconic barns.
Dinner features your choice of Chicken Picatta or Herb Roasted Pork Loin with salad, roasted redskins, veggies, dessert, and coffee or tea for $24.00.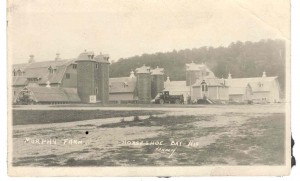 Aug. 23
Village of Egg Harbor 50th Anniversary Celebration
Food, music, historic tours and reenactments, and displays from the society's archives will all be on display at Harbor View Park in Egg Harbor.